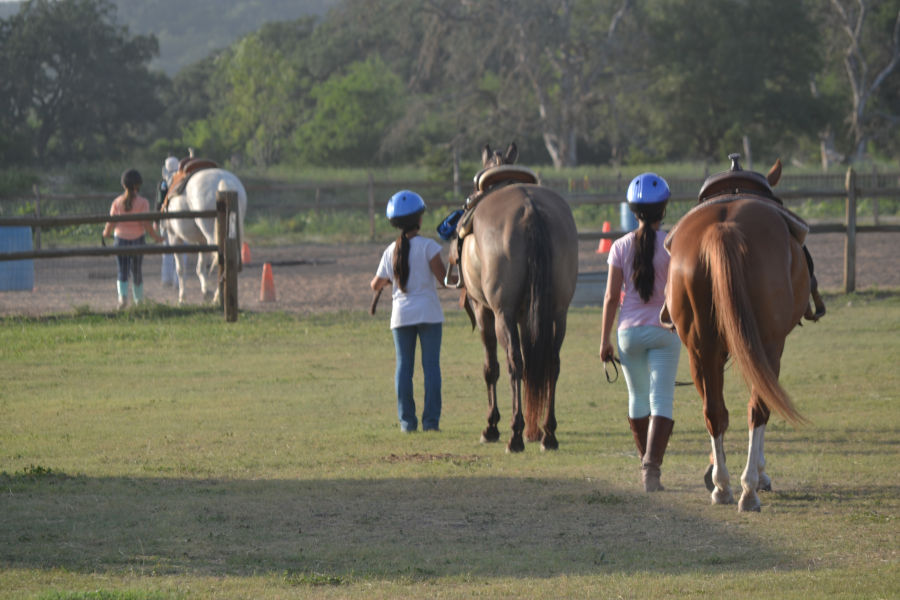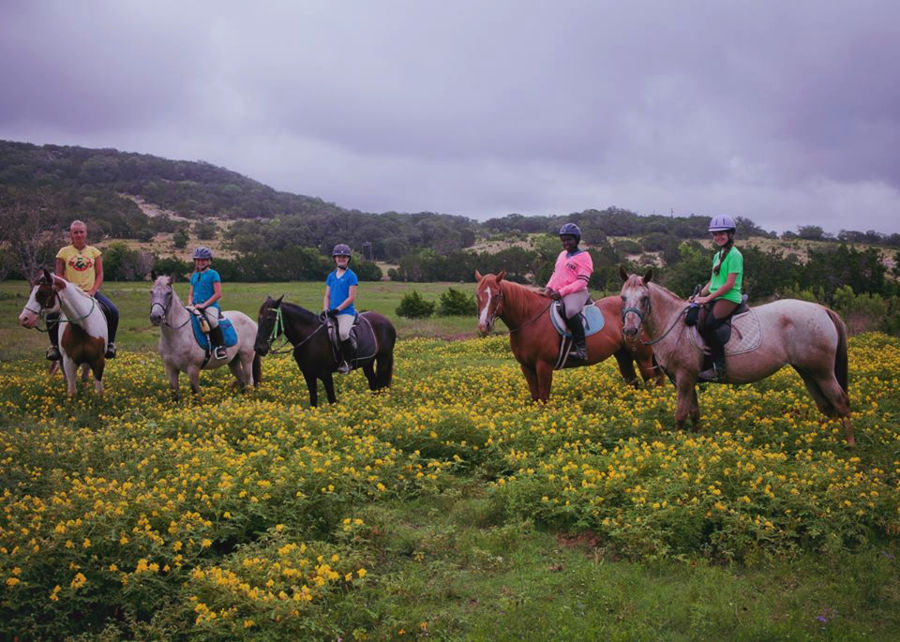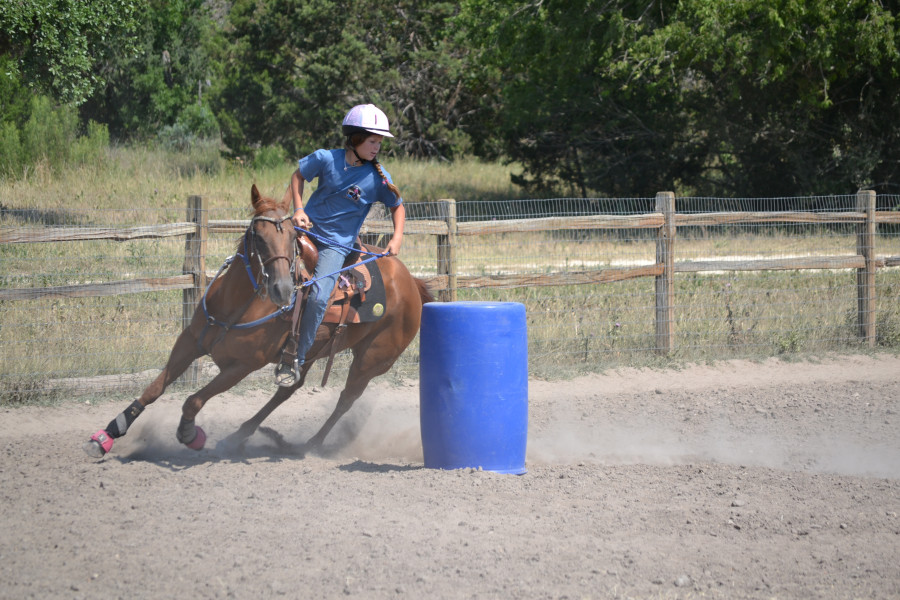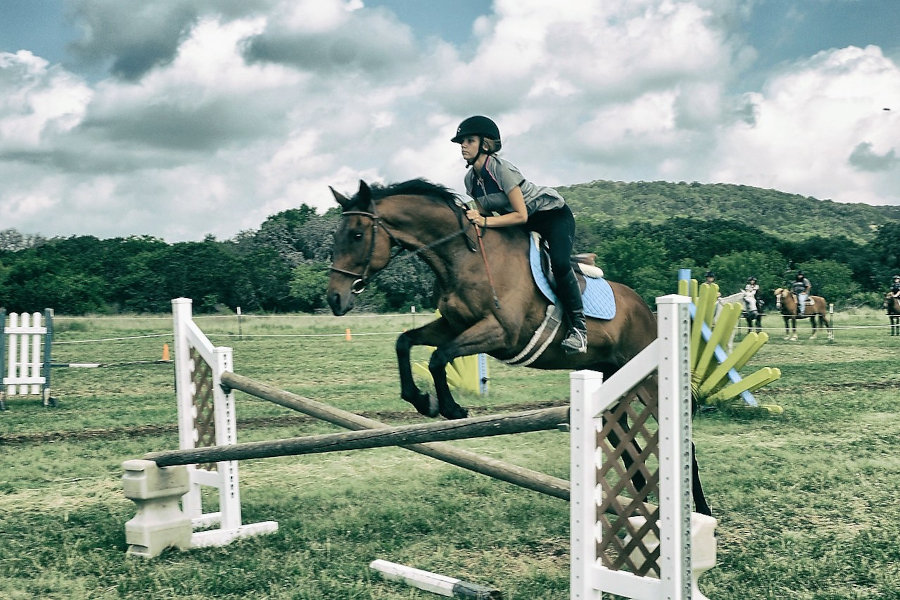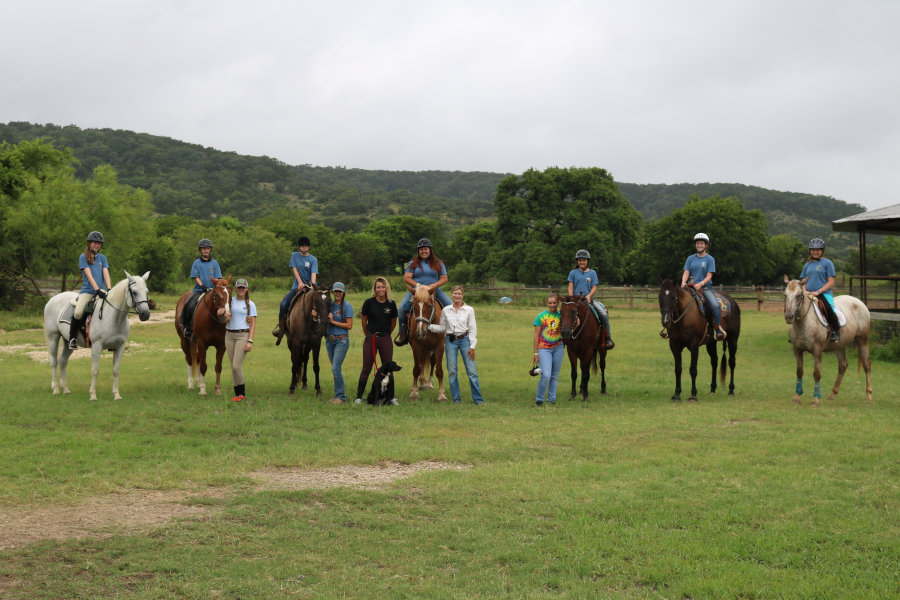 2023 marks our fifteenth year to offer the highest quality riding and horsemanship camps to girls and young women 9 to 18 years of age at Hill Country Equestrian Lodge. Our three 1-week sessions will run back-to-back starting June 11 through July 1, 2023. Campers may attend one, two, or all 3 sessions, and have the option of remaining at the ranch during the weekends between sessions.
Here, amidst the natural beauty and tranquility of the Texas Hill Country, we combine in-depth, individualized riding instruction and unique recreational activities in an environment of fun, encouragement, and camaraderie. With a limit of only 12 campers per weekly session, and a student to instructor ratio of no greater than 3 to 1, there is no better place for your camper to improve her horsemanship skills, whether Western or English. A camper may bring her own horse at no additional charge, or she may be carefully matched with one of our ranch's quiet, yet responsive horses. There is no need for campers to share a horse.
In addition, to the instructional sessions, campers take daily trail rides through the beautiful countryside of our ranch, and in the adjoining 5500 acre Hill Country State Natural Area. All campers are also responsible for the care and well-being of the horse they are riding throughout their stay.
Outside of our time with the horses, campers are treated to swimming, cook-outs, horse decorating, crafts, archery, and other recreational opportunities. Our meals are tasty, ample, and nutritious.
Campers may stay one week, two weeks, or all three weeks, depending on our availability, June 11- June 17, June 18- June 24, and June 2- July 1, 2023. (There is also a parent or relative/ camper option for the 3rd session, if desired.) Campers arrive on a Sunday afternoon, and stay through noon of the following Saturday after the demonstration of the skills they have learned, which is presented to the parents and others who have come to pick up their campers. Those campers continuing through to the following week's session may remain at the ranch through the weekend.
Each 1-week session costs $1640.00. Stay-over weekends between sessions are $150 each.
There is a $100 per 1-week session discount for applications received and accepted with 1/2, ($770.00 per week) paid by April 1, with the balance due June 1.
You  may reserve your camper's place by calling us at (830) 796-7950 with your credit card information to make your deposit of $770.00 per week, (1/2 of the discounted rate), by April 1 with the balance due June 1, or for payment of the full amount after April 1. You may download a Camp Application here, fill it out, SAVE YOUR CHANGES, and email it back to us within 2 weeks after reserving your camper's place.
You may also download and print a Health History Form here. This will need to be filled out and signed by a healthcare professional. It may be replaced by a sports or other physical exam done within the previous year.
For more information and pictures, visit our camp website, www.texasridingcamps.com. Call us at (830) 796-7950 for help, or email us at info@hillcountryequestlodge.com. We look forward to hearing from you, and to having your camper join us for a wonderful Summer of horsemanship education and camaraderie!